65 Roses and a Trunki:
Defying the Odds in Life and Business
65 Roses and a Trunki: Defying the Odds in Life and Business
"Rob provides all entrepreneurs with an inspirational example of courage and determination - his life story is compulsive and compulsory reading"
Sir John Timpson CBE, Chairman Timpson
"A stunningly honest and personal book from a man who has looked inside himself to make sense of the world, of business and what drives us to achieve.  It speaks directly to purpose and how vital that is in business and life."
Paul Lindley OBE, Founder Ella's Kitchen
"Rob Law is an inspiration to us all. We can all learn something from reading these powerful pages; lessons to apply in our business, and in our life"
Emma Jones MBE, Founder Enterprise Nation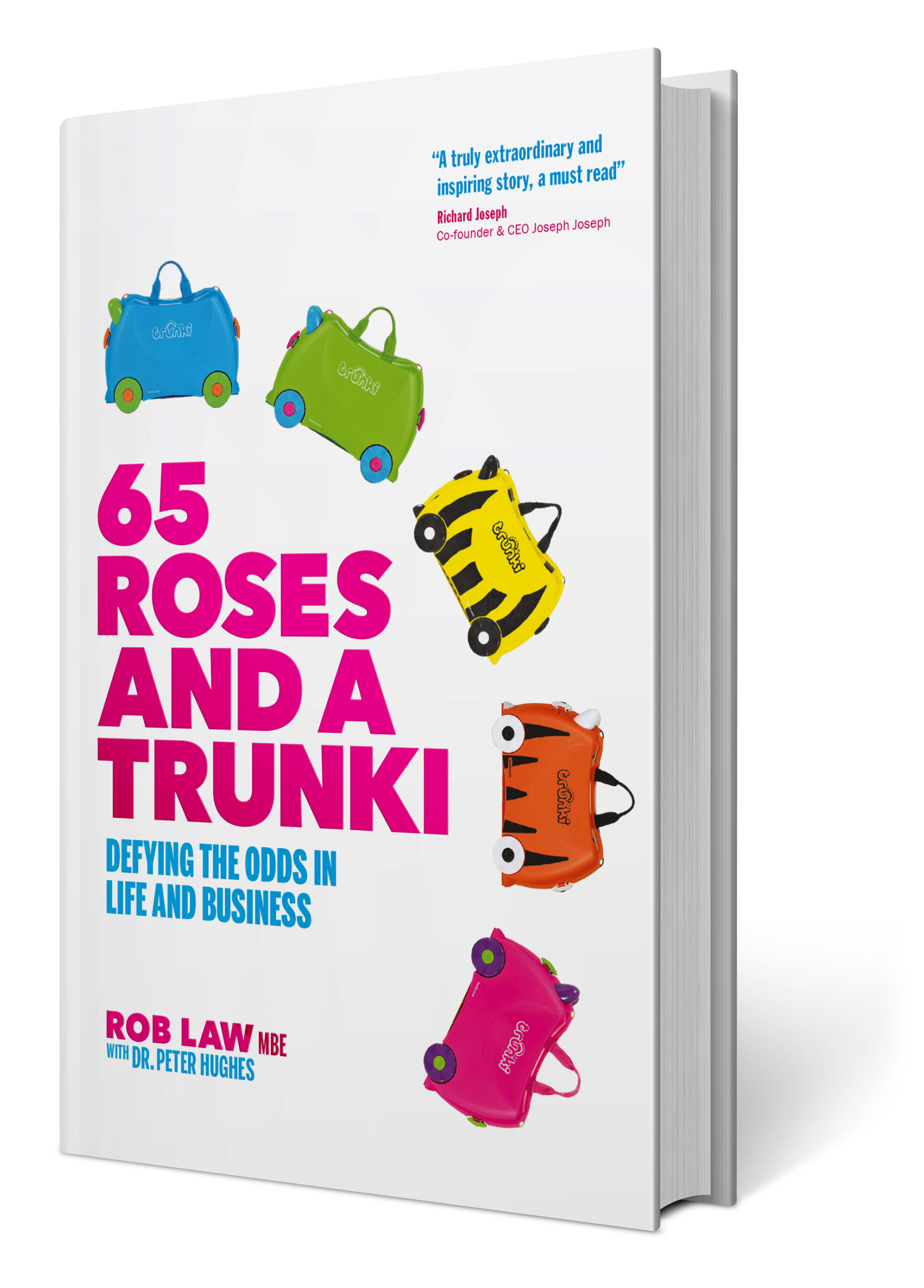 Release date: 18th June 2020
Publisher: Wiley
ISBN: 9781119628590    £19.99 Hardback
65 Roses and a Trunki - A book that changes lives.
65 Roses and a Trunki is a life-affirming book that tells the extraordinary success story of entrepreneur Rob Law, designer and inventor of the Trunki, the award-winning children's ride-on suitcase that's sold millions of units worldwide.
Born with cystic fibrosis (children often call the disease '65 Roses'), Rob watched his twin sister die from the same illness at sixteen. Told he could not expect to live into his twenties, he made a promise that he was going to defy the odds and live a long and successful life.
Despite his business being described as "worthless" when he appeared on Dragons' Den, Rob went on to create a new category of consumer product, built a global business brand, received an MBE from the Queen, brough joy to millions of children all over the world and became a father to three children after being told he would die childless.
Having beaten overwhelming odds on the road to success, Rob has written this memoir to help anyone facing difficult challenges in life and business.
Drawing on key insights from personal and business psychology - from brand-building and harnessing your creativity, to managing a chronic health condition and facing your demons - #65RosesandaTrunki is an inspirational success story from which readers will learn that anyone can defy the odds, follow their passion, keep fighting when the experts are telling you to quit, and overcome every challenge they face.
"At a time when the world is changing through a global pandemic, 65 Roses and a Trunki seems even more poignant to how we live, who we are  and what we value. Rob Law's inspiring and powerfully moving story grabs you from the very first page. It's a powerful, honest and heartfelt story of survival against the odds. This is a book that everyone should read."
Professor Steven West CBE,DL, Vice-Chancellor, President and CEO, UWE
Watch the book launch webinar Q&A with Rob here
"A truly extraordinary and inspiring story, a must read for all aspiring entrepreneurs. Rob shows how persistence, belief and hard work are the "must have" tools required to build a successful business and brand"
Richard Joseph, Co founder & CEO Joseph Joseph
"In this powerful, moving book, Rob shares his incredible personal story with lessons for us all about resilience and self-belief. For anyone who's got a dream, this is essential reading"
Nadine Dereza, Journalist, Presenter & Media Director
"Rob's story is told with rare honesty and humility; a journey of pain, purpose and determination to survive. We need inspiration and hope to drive us forward in our lives and Rob brings us both with care and intensity. An incredible read."
Will Butler-Adams OBE, CEO Brompton Bikes